2014-2015 Symposium: "Veterans Affairs: Legal Issues Impacting Those Who Serve and Have Served"
The University of Miami School of Law is hosting the National Security & Armed Conflict Law Review annual Symposium. The title of the presentation is: "Veterans Affairs: Legal Issues Impacting Those Who Serve and Have Served.
WHEN: Friday, Nov. 14, 2015, 1 p.m. to 5 p.m.
WHERE: Student Activities Center, Coral Gables Campus,
1330 Miller Drive, Coral Gables, Florida.
RSVP: http://www.law.miami.edu/rsvp/nsac2014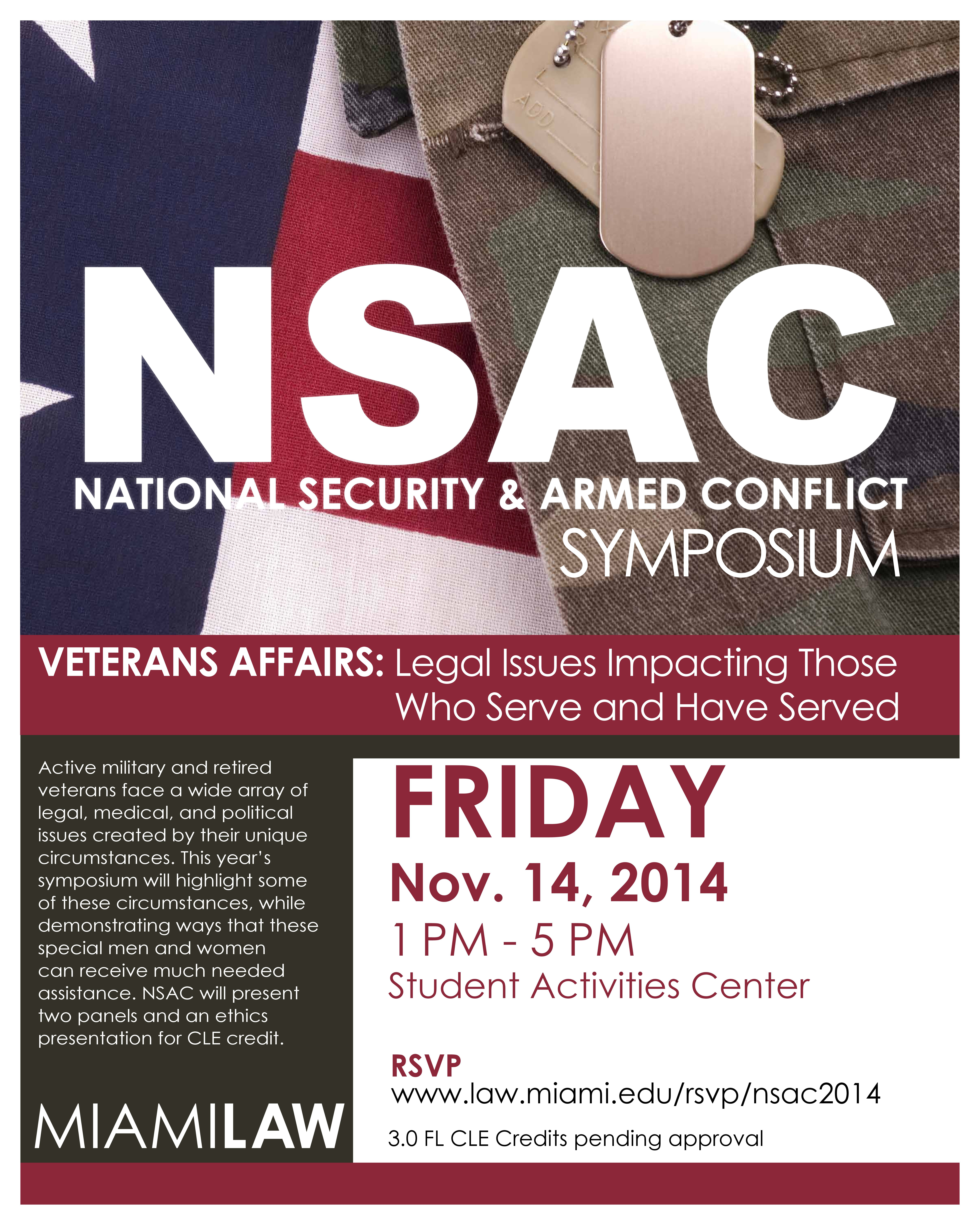 Active military, veterans, and retired military face a wide array of legal, medical, and political issues created by their unique circumstances. This year's symposium will highlight some of these circumstances, while demonstrating ways that these special men and women can receive much needed assistance. The first panel will address the legal and political reforms necessary to correct the difficulties veterans face in accessing benefits and services from the Veterans Administration and the federal government. The function of the second panel is to honor veterans and retired military members, while promoting scholarly dialogue about the variety of issues our retired military members face when transitioning back to the civilian world. The final panel, on ethics, will address ethical issues unique to the representation of members of the military and their families in criminal and civil matters arising in Florida.
                                                                    Panelists Include:
Paul Freese: Special Advisor on Homeless Veterans to the ABA Commission on Homelessness & Poverty and the Co-Chair of the ABA Coordinating Committee on Veteran's Benefits & Services,
Dean Michael P. Allen: Associate Dean for Academic Affairs at Stetson University School of Law and  Director of the Veterans Law Institute;
Dr. Robert A. Seegmiller, Ph.D, ABPP-CN: Director of Postdoctoral Residency in Clinical Neuropsychology and a Staff Neuropsychologist in the Department of Behavior Medicine at Brooke Army Medical Center;
Dr. George D. Garcia, MD, FACS, Ret. Lt. Col. USA: Trauma Surgeon at the Ryder Trauma Center at Jackson Memorial Hospital and an Assistant Professor of Surgery at the University of Miami Miller School of Medicine;
Dr. Deirdre Golden, M.D., M.S., J.D., L.L.M: Chair of the American Bar Association (ABA) Health Law Section, Public Health & Policy Interest Group;
Mariano Corcilli, a disabled veteran, and advocate;
Circuit Court Judge Edward H. Merrigan, Jr.: presides over Veterans Court in Broward County;
Lt. Col. Antonio Colmenares, USMC (Ret): Director of Veteran and Military Services at Miami-Dade College; and
Michelle Zielenski, LCSW: OEF/OIF Program Manager at Bruce W. Carter VA Medical Center.
FOR MORE INFORMATION CONTACT: Laura Scala, Senior Symposium Editor, lscala@students.law.miami.edu.
 ——————————————————————————————————————————
2014 Symposium: Illicit Trafficking and National Security
Rewatch the 2014 Symposium Here
If you require a certificate of attendance, please email  events@law.miami.edu.
Click here for Official Symposium Program
February 28, 2014, 1:00pm through 4:00pm
SAC (Student Activities Center): 1330 Miller Drive, University of Miami,
Activities Room North and South
Coral Gables, Florida 33146
Please RSVP by February 25, 2014
Click here to RSVP: http://www.law.miami.edu/rsvp/nsac/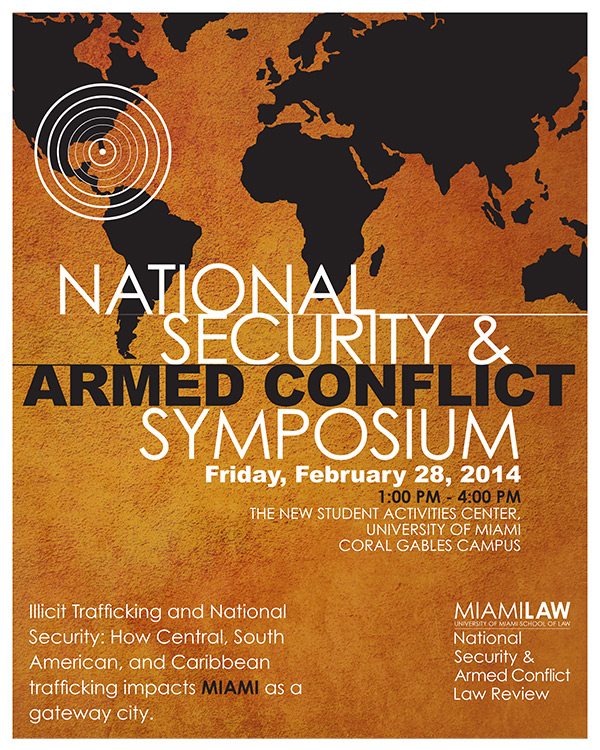 The University of Miami National Security and Armed Conflict Law Review cordially invites you to its 2014 Symposium: Illicit Trafficking and National Security. The symposium will be held on February 28, 2014 in the new Student Activity Center from 1pm – 4pm. The symposium will focus on the nexus between national security, illicit trafficking, and the law in Miami and the Greater Americas. Admission is free. Speakers and panelists will include:
Congresswoman Ileana Ros-Lehtinen (FL-27),
Coast Guard Captain James D. Carlson: Staff Judge Advocate, United States Coast Guard Seventh District,
Mr. Jeremy Kuester: Director of the Office of Strategic Initiatives at the Treasury Department's Office of Intelligence and Analysis,
Col. Daniel Lecce: Staff Judge Advocate at the United States Southern Command,
Dr. Roza Pati: Professor of Law & Director of Human Trafficking Academy at St. Thomas University School of Law,
Mr. Jaime A. Raich: Deputy Chief, Major Crimes Section, United States Attorney's Office (Miami),
Ms. Celina Realuyo: Professor of Practice of National Security Affairs, National Defense University.
This is an event that you should not miss!
Please RSVP by February 25, 2014
To RSVP to the event please visit http://www.law.miami.edu/rsvp/nsac/
 ——————————————————————————————————-
2013 Symposium: The Internet and Armed Conflict
How to Respond to Cyber Espionage, Corporate Computer Attacks and Other Acts of Online Crime? Experts Weigh Options
The question of how to react to a cyber attack brings up a complicated set of conundrums: When is a military response called for, as opposed to one from law enforcement? At which point does an attack on a company affect the security of a whole country? Does the victim respond with cyber warfare, or with a blizzard of bombs and bullets? And how quickly can the response be assessed through the norms of international law?
These were among the issues debated at a symposium organized by Miami Law's National Security and Armed Conflict Law Review and moderated by Professor Markus Wagner. The discussion, titled "The Internet and Armed Conflict," included as panelists the retired U.S. Air Force Major General Charles Dunlap, a Professor at Duke University School of Law; Jamil Jaffer, Republican Chief Counsel and Senior Advisor to the Senate Foreign Relations Committee; and Major Michael McFerron, a cyber-specialist for the U.S. Marine Corps, Southern Command.
—————————————————————————————————————————-
2012 Symposium: Child Soldiers and International Law
If you assume that the quintessential child soldier is a barefoot, 10-year-old African boy with an assault rifle, you might be on the wrong track.
An audience that attended the inaugural symposium of the National Security and Armed Conflict Law Review last week learned that the profile of a child soldier is far more complicated than what is often imagined or portrayed. For instance, 40 percent of child soldiers are girls. Two-thirds of child soldiers enlist voluntarily. A very small percentage are implicated in acts of atrocity, and most are not combatants but cooks, cleaners, sex slaves and forced conjugal partners.