2015-2016 Symposium: "The Rise of Leaderless Resistance: The Changing Nature of Domestic Terrorism in the United States"
The University of Miami School of Law is hosting the National Security & Armed Conflict Law Review annual Symposium. The title of the presentation is: "The Rise of Leaderless Resistance: The Changing Nature of Domestic Terrorism in the United States".
WHEN: Friday, Nov. 20, 2015, 1 p.m. to 5:30 p.m.
WHERE: Student Activities Center, Coral Gables Campus,
1330 Miller Drive, Coral Gables, Florida.
RSVP: http://www.law.miami.edu/rsvp/nsac
CLE REGISTRATION: http://www.law.miami.edu/NSAC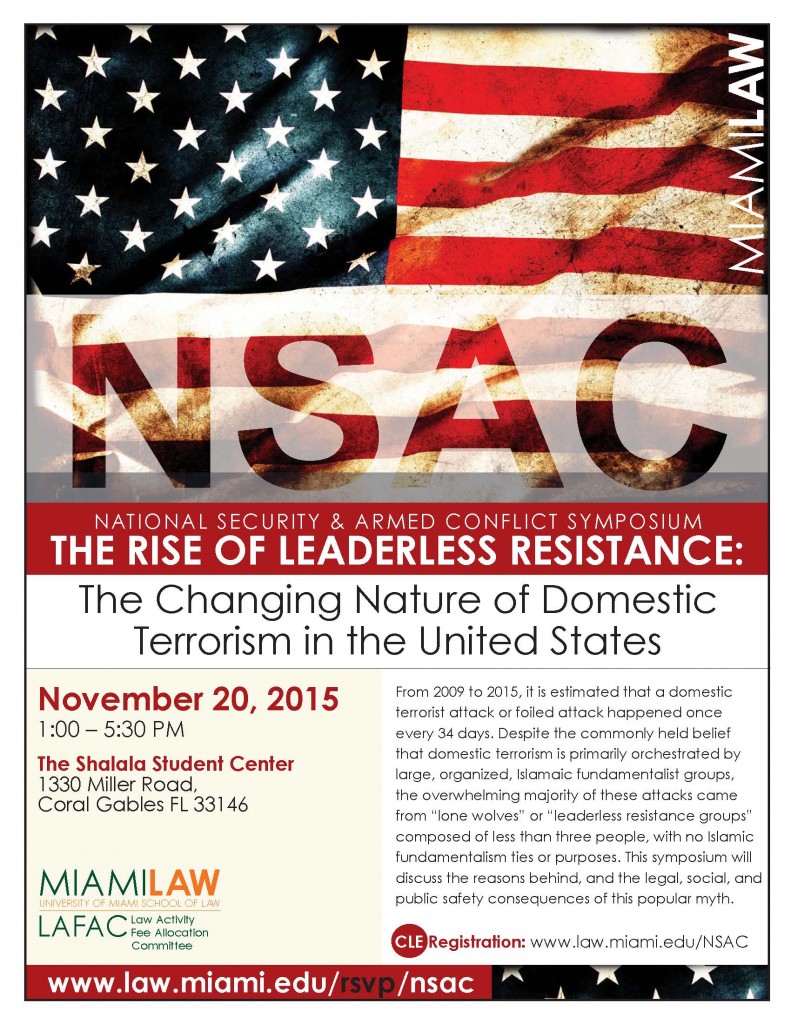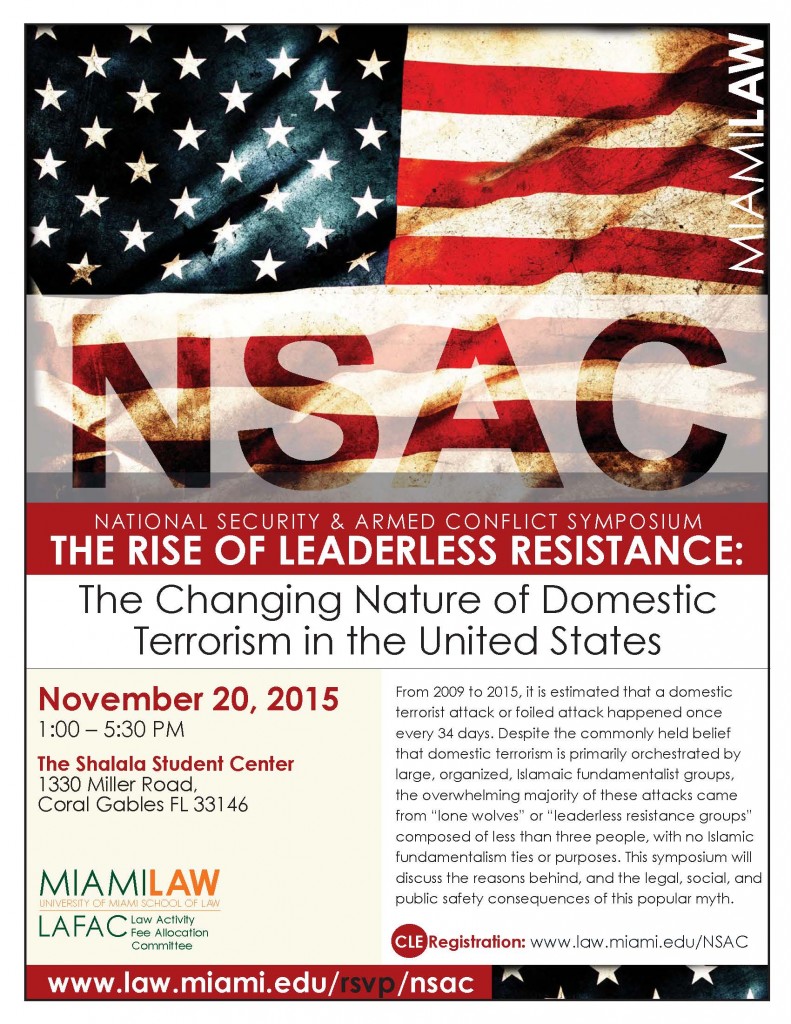 Since 9/11, the government has focused very heavily on Islamic jihadists, commonly to the exclusion of violence from various forms of domestic extremists. While this fixation on horrific groups such as Al Qaeda is wholly understandable, the vast majority of domestic terrorist attacks now come from "lone wolves" or "leaderless resistance" groups within the United States. In fact, a Southern Poverty Law Center study from 2009 to 2015 indicated that a domestic terrorist attack, or foiled attack, occurred on average, every 34 days. The study also shows that 90% of these incidents were the work of just one or two persons. The recent government response has reflected the seriousness of this growing trend. Attorney General Eric Holder has announced the reconstruction of the Domestic Terrorism Executive Committee; there has been a recent increase in funding for studies of terrorism and radicalization; and the FBI has produced a number of informative reports.
The shift in the focus of domestic terrorism gives rise to new problems in the legal realm, in law enforcement, and in policy. Such issues include a vague and broad definition of "domestic terrorism," varying definitions of "domestic terrorism" between government agencies, law enforcement ill-equipped to properly investigate and prevent this new kind of terrorism, prison radicalization, the internet as a new medium for terrorism, the emergence of numerous leaderless resistance extremist groups involving animal and environmental rights, anarchists, white supremacy, black separatists, anti-abortionists, and right-wing "Defenders of the Constitution."
The purpose of this symposium would be to engage the community in a discussion and increase awareness of this issue, as well as to explore these new challenges and attempt to discover a solution to many of them.
Panelists Include:
Mark Potok: Senior Fellow at the Southern Poverty Law Center, Birmingham, AL
Sabrina Schroff: Federal Defenders of New York
Daniel Rashbaum: Partner at Marcus, Neiman, and Rashbaum and Former AUSA
Janna Bollinger Heller: Acting Manor, Homeland Security Bureau, Miami-Dade County
Arie Perliger: Director of Terrorism Studies, Combating Terrorism Center at West Point
Kendall Coffey: Partner at Coffey Burlington, PL
Jenna McLaughlin: Staff writer for The Intercept, covering national security topics
FOR MORE INFORMATION CONTACT: Kristin Westerhorstmann, Chief Symposium Editor
mwesterhorstmann@students.law.miami.edu